Three of My Favorite NBA Uniform Stories
As the 2015 NBA Basketball season gets underway, I wanted to take a moment to recount three of my favorite basketball uniform design stories.

One of the first stories about uniform design I remember reading had something to do with the 1988 debut of the Charlotte Hornets' purple pinstripe uniforms. They were designed by Charlotte native, Alexander Julian. With his line, Colours by Alexander Julian, he ably updated the staid men's suiting routine for then modern times (cue: "This is the nineties.") by adding splashy patterns and bold color combinations. One such colour — ahem color — for which Mr. Julian is owed a lot of credit: Teal.
2x NBA All-Star Kelly Tripucka and Mr. Julain at Charlotte's 1988 uniform reveal for the media.
Consider this, without Alexander Julian and the Charlotte Hornets, there'd have been no teal in the uniforms of the following expansion teams: San Jose Sharks, Florida Marlins, Tampa Bay Devil Rays, the Arizona Diamondbacks, the Vancouver Grizzlies, to name but a few, not to mention the storied, if not sagging franchises who added teal in hopes to also add a spark. I'm talking about you, 1995 Detroit Pistons.
Forgive my serious digression. It suffices that there could be an entire post, if not a blog, devoted to teal uniforms. So, Alexander Julian injected teal into sports. He also incorporated a wide-as-clapboard-pinstripe in the befuddlingly unlucky color purple.
He once famously quipped, "When it came out, I felt like I had dropped a teal bomb on Charlotte. There was a new housing development that changed its name to 'Teal Acres.' The Park Hotel, which was the best hotel in town, changed its logo to teal. The towels were embroidered in teal. I felt a little like Doctor Frankenstein. I had created a monster. It took off like crazy."
Love it or hate it, there's no denying the magnitude of Mr. Julian's contributions to the way athletes look off but especially on the court.
Sidenote: Tell me I wasn't the only kid who tore this Converse ad out of SI For Kids and shoved it in his TrapperKeeper.
FLOJO! Look on any "most-stylish athlete" list, and you're bound to find Florence Griffith Joyner, the track athlete who stormed the courses of the Los Angeles and Seoul Olympics in the 1980s. As famous for her flamboyant nail art and her asymmetrical leggings as she was for her speed, around the time FloJo's racing career peaked, a tuned-in intern at the Indiana Pacers made note of a Sports Illustrated interview where FloJo hinted she'd like to try her hand at designing.
"Big D, hit me!" "…We're livin' the dream."
Though admittedly far more staid than her one-legged lacy racewear, Knick-killer Reggie Miller and the 1990 Indiana Pacers did step onto the courts in bold, asymmetrical uniforms befitting their team's newfound edginess, thanks in large part to the ball-handling skills of Mr. Miller. Undoubtedly, that edgy flair of FloJo also must have helped.
And finally, the most heart-warming uniform design story in recent years has to do with the work Brooklyn-based Doubleday and Cartwright are doing for the Milwaukee Bucks. A personal design hero of mine, Justin Thomas Kay, a proud Cream City native, was the managing creative director at Doubleday and Cartwright while the firm worked with the Bucks to devise a new logo, new uniforms, and an entirely new design ethos.
What I loved most about this project was how history and childhood were integrated into the design. Milwaukee is known as The Cream City for the color of the bricks made from clay found in Milwaukee and the Menomenee River Valley.
I'm having trouble tracking down the photo, but I recall upon release of this new design seeing a sketch of the lettering above. It was designed using graph paper, the same graph paper on which my friends and I — and assuredly Mr. Kay's friends — were sketching the logos of the Bucks and Bulls, perfecting the rack of horns or the Bulls' snout as kids who were obsessed with Detlef and Reggie; and Mugsy and Larry; and Ricky and Alvin; and Scottie and Michael.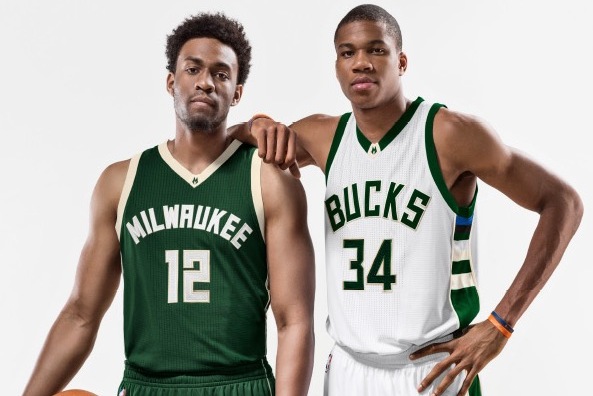 By relying upon colors familiar to the woodland Wisconsinites, forest green and cream, with hints of lake water blue, the he uniforms have at once a classic, old world appeal and a decidedly modern look. Kudos to Kay and the team at Doubleday and Cartwright for getting this so very right.
I'm hopeful this NBA season is a good one. Thanks to the Bucks, it certainly looks that way.