Factory Visit: The Patagonia Archive
In March, shortly after I learned that two of Patagonia's iconic designs, the original pile jacket and the Synchilla Snap-T, were to be incorporated into upcoming shows at the Tate Modern and MoMA, I reached out to company archivists Val Franco and Terri Laine to see about a visit.
As Outside Magazine's Brad Rassler describes his visit in November of 2016:
"A 10,000-square-foot facility not far from the former Hells Angels' Ventura, California, headquarters—a former food canning operation, the address of which I am not to reveal—houses the Patagonia Archives, a project recently launched by the clothing company to chronicle its storied past. No signage betrays the identity of the building's occupant or hints at the work that takes place within. The archives, you see, are not open to the public. But for one day last November, its doors opened to me.
Terri Laine has been with Patagonia since the mid-80s, and her extensive work in visual merchandising — incorporating environmentally-friendly materials and practices into brand visuals — inspired my passion for the brand from very early on.
An employee of the company since its earliest days in the mid-70s, Val Franco is largely responsible for the look and feel of Patagonia's packaging, from the capilene sushi rolls to much of the recycled content you'll find in the hang tags.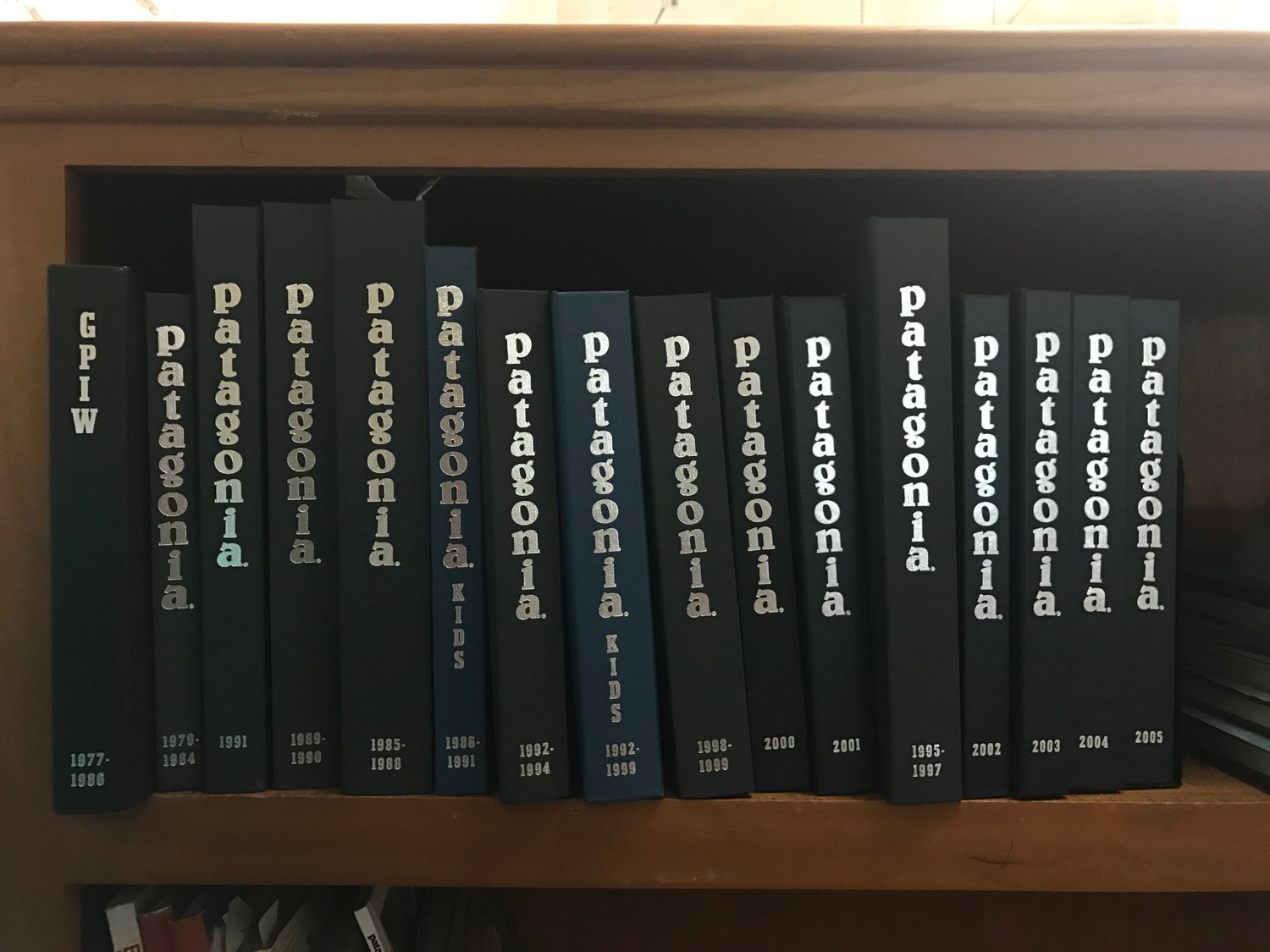 The Catalog Library
For a little over a year, Laine and Franco have been tasked with preserving and protecting as much of the brand's archives as they possibly can. Founders Yvon and Malinda Chouinard have moved crates and boxes from their Ventura, California home into the space and they've tasked many of their friends to do the same.
Walking into the archive, I was reminded of my trip to meet Ruth Porter who oversees L.L. Bean's archive. The major difference between a more well-establised archive and a young archive like Patagonia's is noticeable.
"Shovels and tweezers," Val Franco explained. "Bean's in a place where you need the white gloves and the tweezers to examine their history. We're still digging to get to our archaeological site."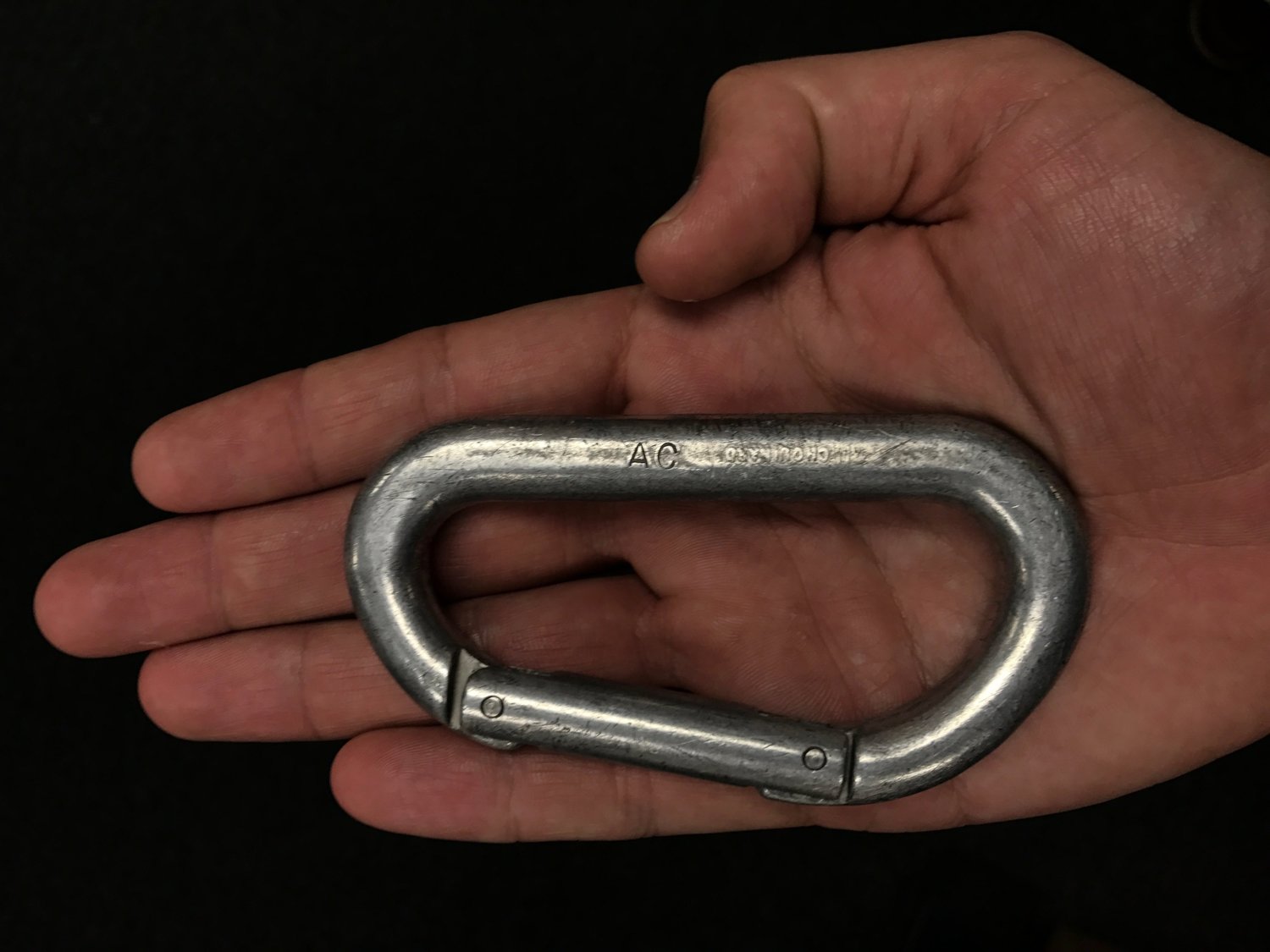 c/o Terri Lane, Patagonia.
Three major highlights of the archive for me were holding one of the first carabiners ever made, Chouinard's own design, the "fish and tits" Pataloha shirt that he wore with a tuxedo at a meeting of the Seven Summits Club in 1985. (Photo by Rick Ridgeway) and the Fun Hogs flag, which flew atop Mount Fitz Roy on December 20, 1968 at the climax of the fateful trip that inspired Chouinard to start Patagonia. For more on that trip, I recommend watching Mountain of Storms, Lito Tejada-Flores' 1969 adventure film featuring Yvon Chouinard, Doug Tompkins, Dick Dorworth, and Chris Jones.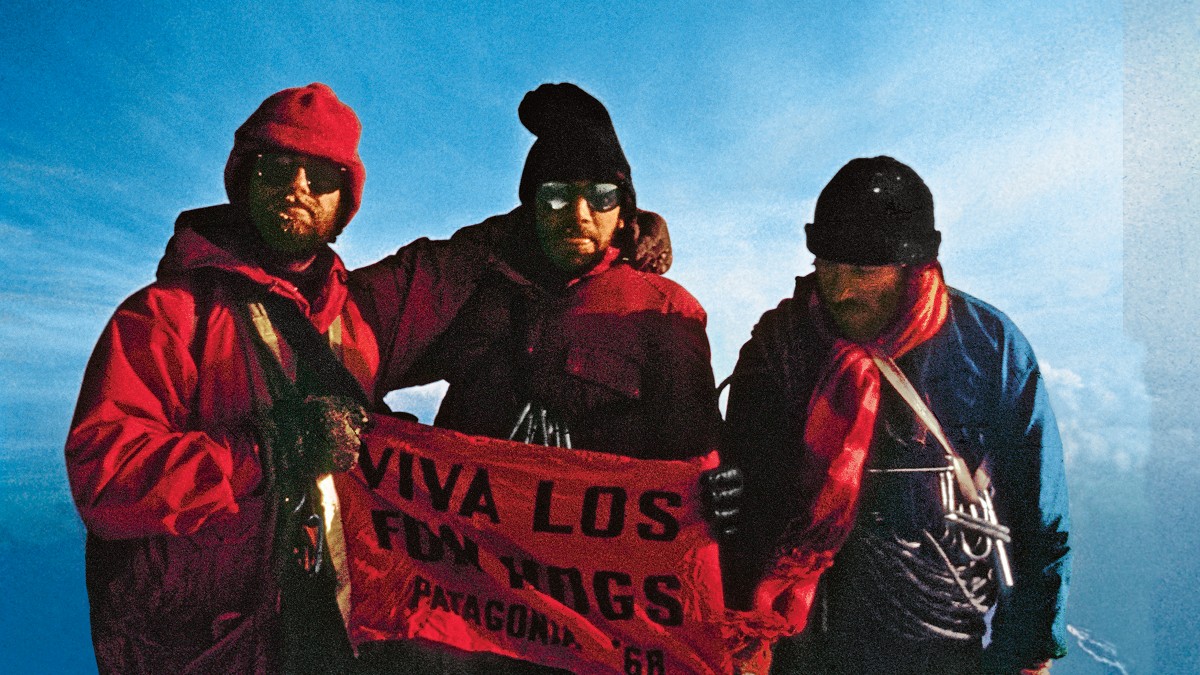 Dick Dorworth, Doug Tompkins, and Yvon Chouinard after the first ascent of the California Route. December 20, 1968, 8PM. Photo c/o Chris Jones
Shortly after the trip, in the American Alpine Journal, Tompkins wrote, "In general, we were going to 'hog fun' as much as we could for six months." As translated for the locals, the "sporting porks" headed out on a six month road trip where they surfed, skied, and climbed from Ventura to Patagonia and back again in an old Econoline van. Legend has it that Tompkins, who founded The North Face in 1966 and sold it in 1968, had the banner made just before leaving San Francisco.
Patagonia's geography deeply impacted Chouinard, so much so that he went on to name his company for the range. Later, Tompkins migrated to the region and began acquiring vast tracts of land, and he and his wife Kristy, a former Patagonia executive, turned them into national parks.
The Devil is a Hangdog.
First generation Chouinard Equipment Co. pitons, painted yellow.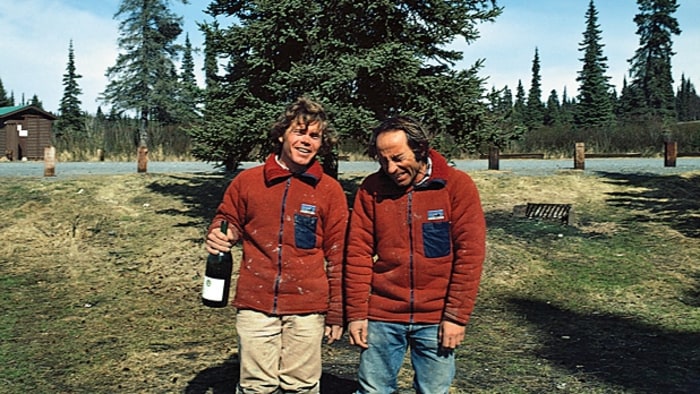 Yvon Chouinard and Rick Ridgeway on the Kenai Peninsula in Alaska.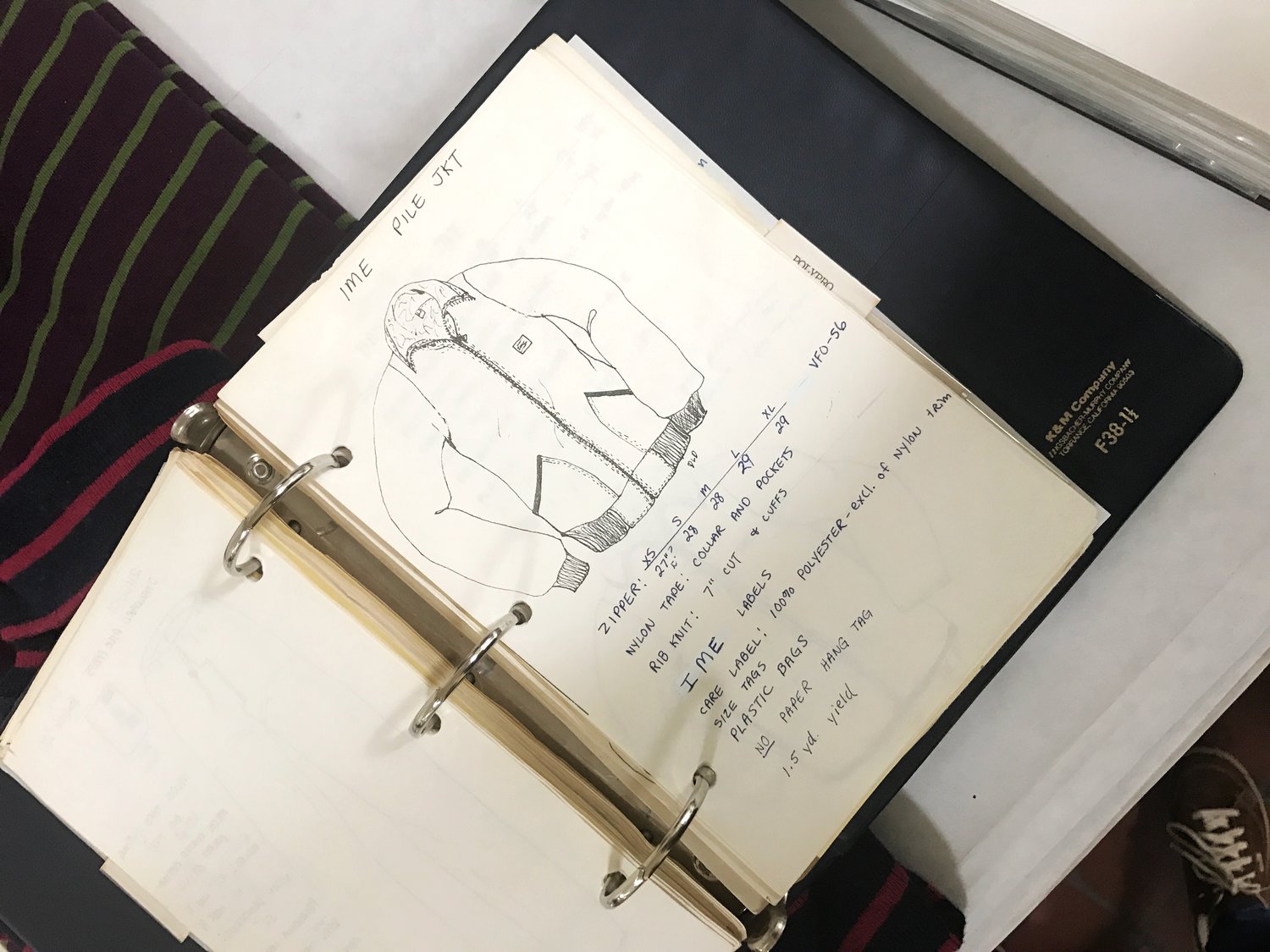 Hand-drawn specs.
This early pile jacket will soon be on display at the Tate Modern. Part of a California design retrospective.
This early Synchilla Snap-T has been added to the permanent collection at MoMA. Of special note, the off-set snap on the chest pocket was designed by a member of Patagonia's sailing department. "It kept his sunglasses from sliding into his armpit," Laine explained. That shape continues to reappear in designs new and old today.
Hand-painted specs sheet for the earliest rugby shirts.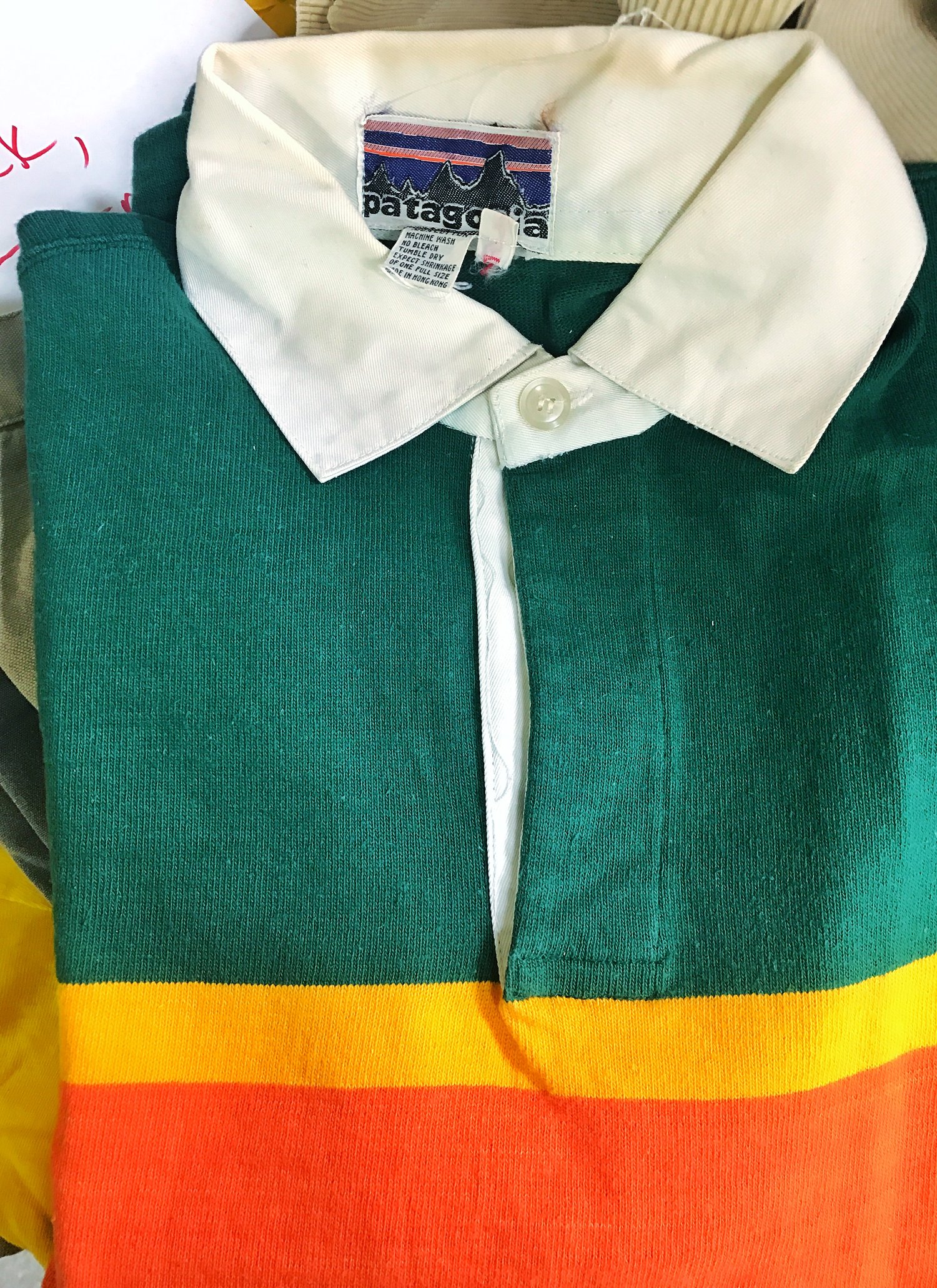 These rugged Umbro rugby shirts were roomy and perfect for climbing. Included in the Chouinard Equipment Co. catalog alongside some heavyweight corduroy shorts, Chouinard saw an opportunity when his hardware sales began to be outpaced by what he then referred to as his "software," and Patagonia was born.
For more on the archive, be sure to read Brad Rassler's piece in Outside Magazine.
For more on Patagonia, I recommend reading the tenth anniversary revision of Let My People Go Surfing, Yvon Chouinard's masterwork, a book that changed my life and countless others.
Special thanks to Patagonia and to Val Franco and Terri Laine for their hours-upon-hours of time and care — not just for me but for anyone who is passionate about the outdoors and this company that does so much to preserve and protect those wild experiences for the generations to come. December 1, 2016